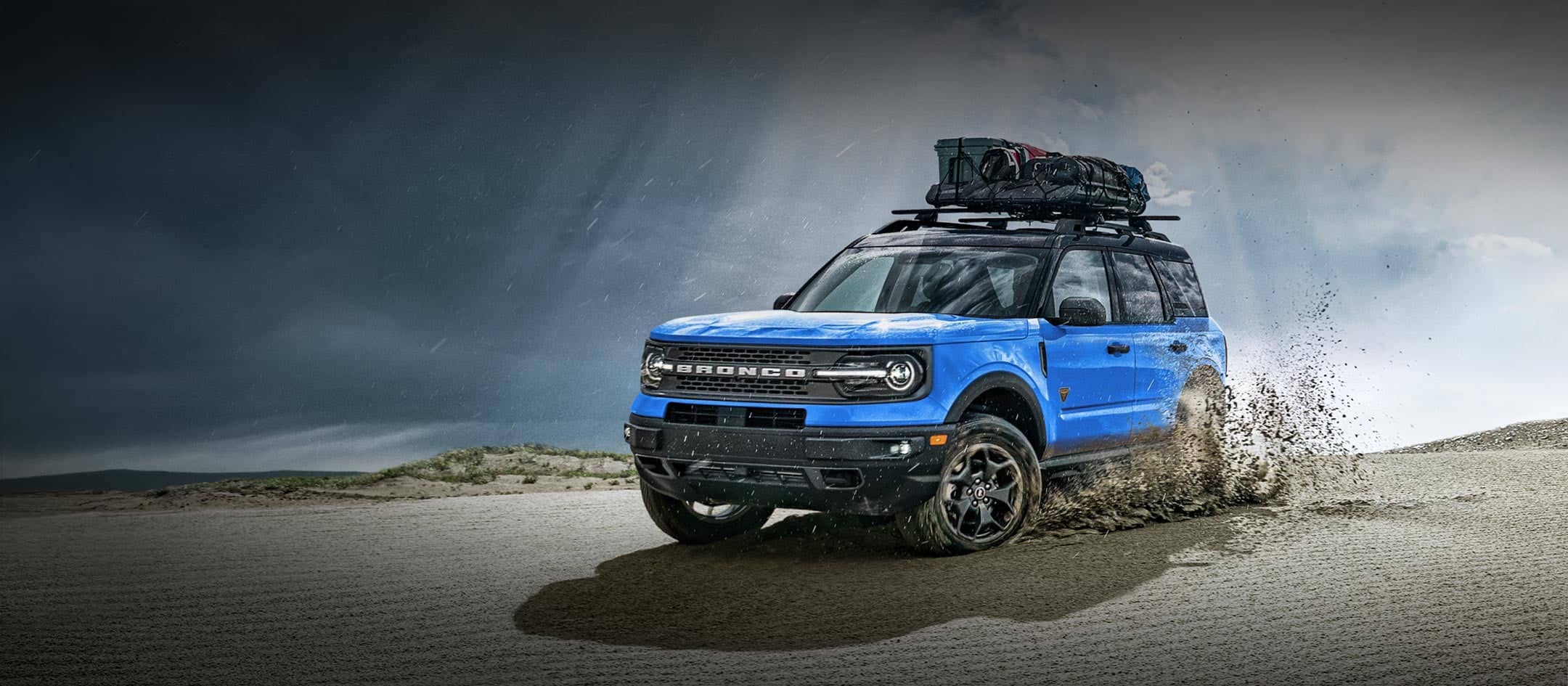 Kick Up Dust
Take the path less travelled, even if there's debris, dirt and muck in the way. The combination of 4×4 capability, off-road-tuned underpinnings and proficient vehicle dynamics will power you through the trails.
U.S. Pre-Production Model Shown.
Free to Wander
With a Bronco™ Sport Badlands™ model that harnesses an available 8.8″ of ground clearance, unsurpassed approach, and departure angles and an available 23.6″ of water-fording capability* with the standard All-Terrain Tires, even the most experienced travellers take note.
U.S. Pre-Production Model Shown.
Travel with Ease
The extra height provided by the Safari-Style Roof means more space for your stuff and lots of head room for tall friends. The Safari-Style Roof even gives you enough cargo room to fit two bikes standing up. * On top, the roof-rack structure for Bronco™ Sport can handle up to 150 lbs. with the standard roof.
U.S. Pre-Production Model Shown.
Advanced 4×4 with Twin-Clutch Rear Drive Unit
Bronco™ Sport is more than capable — it's a blast. Each model comes standard with 4×4 capability, G.O.A.T. Modes™ (Goes Over Any Type of Terrain) and a H.O.S.S. suspension system.
Always consult the Owner's Manual before off-road driving. Know your terrain and trail difficulty and use appropriate safety gear.
Need More Information?
Contact Us Today!
Simply complete this form and type 2022 Ford Bronco Sport in the "comment" section.
By submitting this form you are agreeing to receive communications, including emails, from Corey Ford Ltd about them and their products, services, events, news, offers, customized ads and more. You may withdraw consent at any time. By submitting this form you are also representing that you are at least thirteen (13) years of age.
Review Corey Ford Ltd's Privacy Policy, or Contact Us for more details.