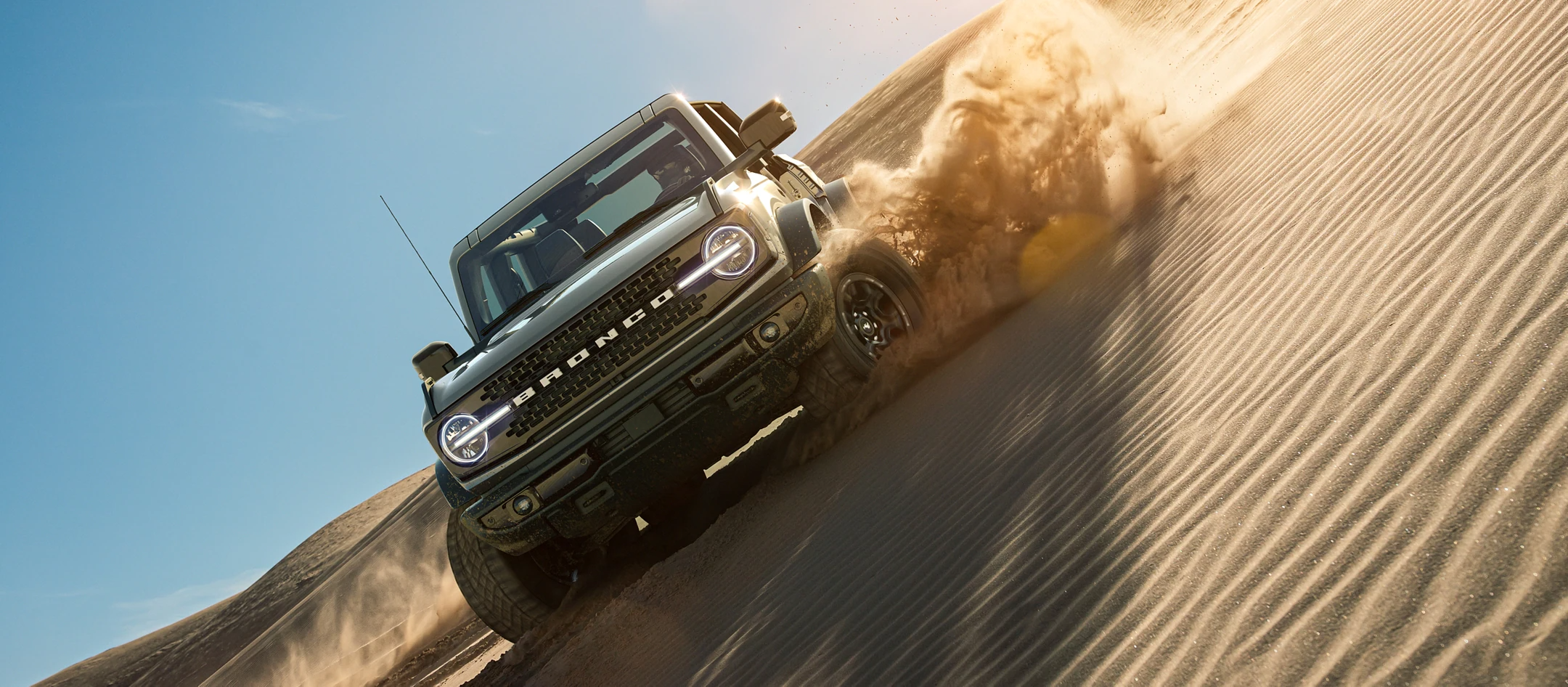 NEW CAPABILITIES, COLOURS AND MODELS AWAIT IN 2022
An SUV built for the thrill-seeker, the sightseer and the day-tripper. To enable your journey into the outdoors, this rugged build puts utility in the foreground with a purposeful design that includes available easy-to-clean surfaces and a ton of interior space thanks to the roomy architecture of the Safari-Style Roof.101 And with standard 4x4 capability, G.O.A.T. Modes™ (Goes Over Any Type of Terrain) and a H.O.S.S. Suspension System, Bronco™ Sport is your gateway to the great outdoors.
Optional equipment shown with available Ford Accessories. Recreational equipment not included. Always consult the Owner's Manual before off-road driving, know your terrain and trail difficulty, and use appropriate safety gear. Ford is committed to the preservation of the environment and treading lightly. Bronco™ Sport Badlands™ shown.
AVAILABLE MANUAL TRANSMISSION WITH THE SASQUATCH™ PACKAGE
From the weekend warrior to the off-road purist, tough climbs and slow crawls are a little more rewarding with a manual transmission. It's why one will now be offered on the 2022 Ford Bronco™ with the available Sasquatch Package.
U.S. preproduction, computer-generated image shown. Not representative of vehicle ordered.
NEWLY AVAILABLE SLIDE OUT TAILGATE
New for 2022, the available slide out tailgate adds more versatility to the Ford Bronco with its ability to function as a table, work surface or step to access rooftop cargo. Once you're done, it conveniently stows under the load floor, so you don't have to remove any gear.
Available late 2022. Cannot store doors with this feature as it raises the load floor. Applies to 4-door models only. U.S. preproduction, computer-generated image shown. Not representative of vehicle ordered.
DISCOVER THE MANY WAYS TO MAKE YOUR OWN PATH
We're doing something different with how we build the Bronco™ SUV. We have designed each Bronco series around different types of adventure. Choose the series that fits you and your adventures best, then customize it even more with over 200 Ford accessories to truly make it your own.
BRONCO™ SUV HAS GOT IT WHERE IT COUNTS
There's a whole world out there just waiting to be discovered. With its toughness and durability, the all-new Bronco™ was built to carry outdoor enthusiasts to wherever the wilderness calls.
U.S. Preproduction computer-generated image with optional equipment shown. Vehicle available beginning summer 2021. Removal of doors for off-road use only.
Need More Information?
Contact Us Today!
Simply complete this form and type 2022 Bronco in the "comment" section.
By submitting this form you are agreeing to receive communications, including emails, from Corey Ford Ltd about them and their products, services, events, news, offers, customized ads and more. You may withdraw consent at any time. By submitting this form you are also representing that you are at least thirteen (13) years of age.
Review Corey Ford Ltd's Privacy Policy, or Contact Us for more details.