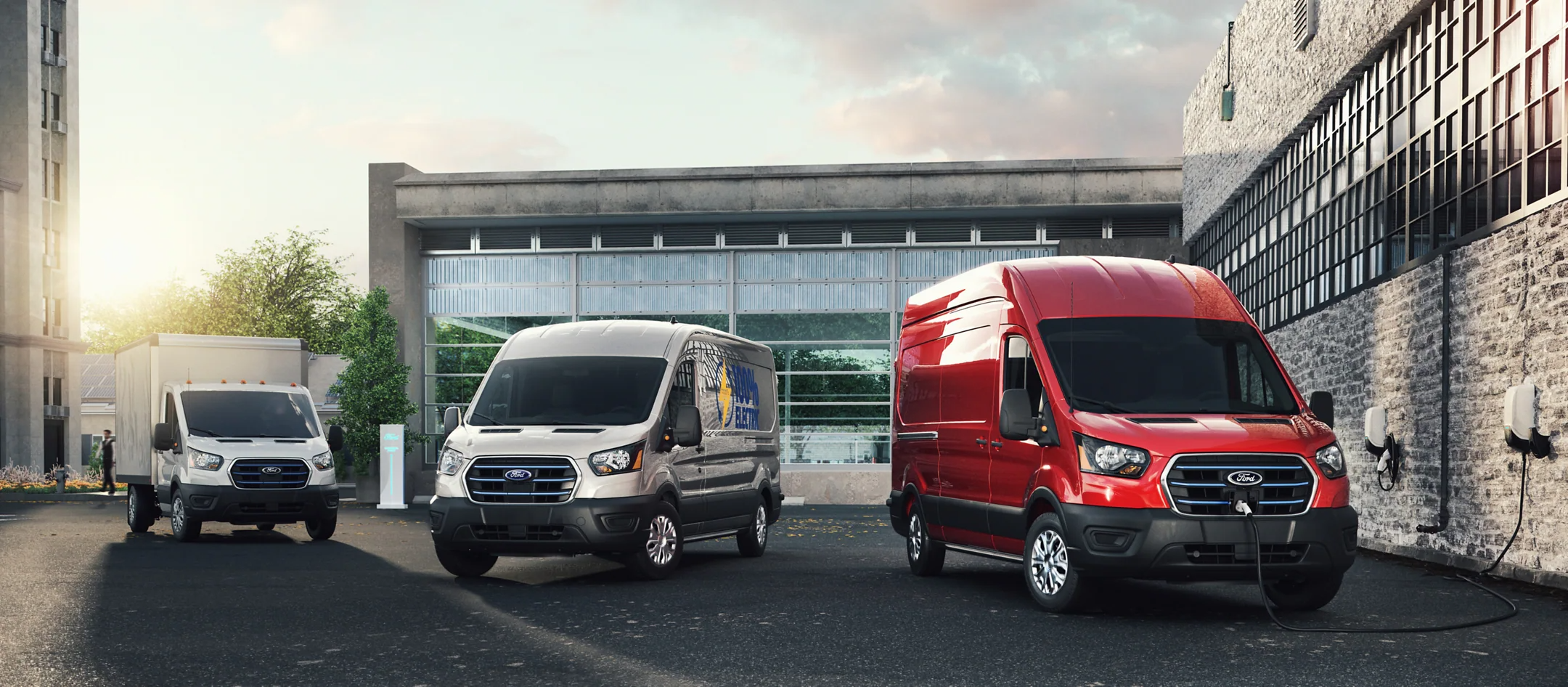 LEADING THE CHARGE
The best-selling van in Canada* is about to lead businesses into the future. Introducing the all new Ford E-Transit. The only electric work van that has the backing of the Ford Motor Company. That means you get much more than just electrification. You get an entire ecosystem of products, support and know-how from a company with a long, proven legacy of getting the job done. So, it's not just a new Transit. It's a new way of doing business.
*Based on the total Canadian reported sales (2019CY). Includes Ford E-Series, formerly called Econoline, van and chassis; Club Wagon; Transit Connect Cargo Van and Passenger Wagon; Transit Cargo Van, Passenger Van and Chassis.
THE ULTIMATE BUSINESS PARTNER
Before we electrified the Transit we talked to real world businesses and designed it around them. For instance, the targeted range of up to 203 kilometres was based on what they told us they needed to get the job done day in and day out. So, businesses get a true work van designed to meet their real-world challenges. Offering all of the benefits of an electric vehicle without sacrificing the capability.
FUNCTIONAL AND ACCOMMODATING
We believe what's inside counts. So, the E-Transit was designed to make manoeuvring around easy. By redesigning the centre console with a new rotary shifter and replacing the manual parking brake lever with e-brake on the dash, we improved interior walk-through. And the available overhead shelf delete can give you even more headspace when moving around the vehicle. The result is greater functionality and greater productivity.
U.S. Model Shown.
PUTTING TECHNOLOGY TO WORK
We've packed the E-Transit with smart technologies which can be accessed through a convenient 12" touchscreen. So, whether you're looking to keep up with the latest technologies, get easy to access vehicle information, or find ways to maximize productivity we've got solutions to help you stay connected on the go, and on the job.
U.S. Model Shown.
BUILT TO BE DRIVEN
The Ford E-Transit isn't just about work. It's also designed to offer an impressive driving experience with technology that can help drivers navigate crowded roads, improve their driving habits, save range and more. It will make you and the people in your fleet feel comfortable and in command and help you control your bottom line.
Need More Information?
Contact Us Today!
Simply complete this form and type 2022 Ford E-Transit in the "comment" section.
By submitting this form you are agreeing to receive communications, including emails, from South Coast Ford Sales about them and their products, services, events, news, offers, customized ads and more. You may withdraw consent at any time. By submitting this form you are also representing that you are at least thirteen (13) years of age.
Review South Coast Ford Sales' Privacy Policy, or Contact Us for more details.