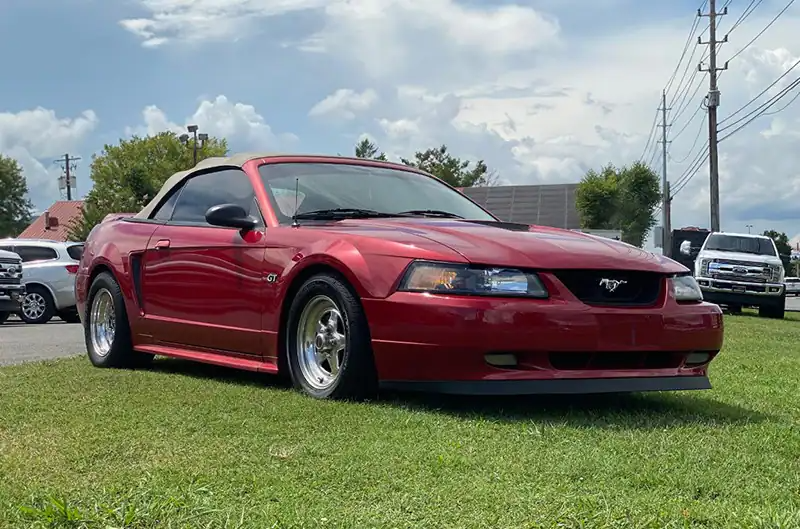 We came across this beautiful 2000 Mustang GT Convertible at this year's big "Ponies in The Smokies" show. Not only is the car an attention-grabber, but so is the story of how it was discovered neglected and abandoned at a shop before it was rescued and restored by new owner Bailey Slemp. Check out the email below to hear how "Ruby Y2V" was brought back to life:
"Hi, Ford Performance! My name is Bailey Slemp. I found my 2000 Mustang GT Convertible, now known as "RubyY2V," abandoned at a shop in Sevierville, Tennessee. It was sitting for nearly a year because of how far gone the car's condition was in. The owner of the car was contacted and was asked what he was wanting to do with the Mustang. He said it was his son's car, but that he had already purchased a different car for his son so the Mustang was no longer needed.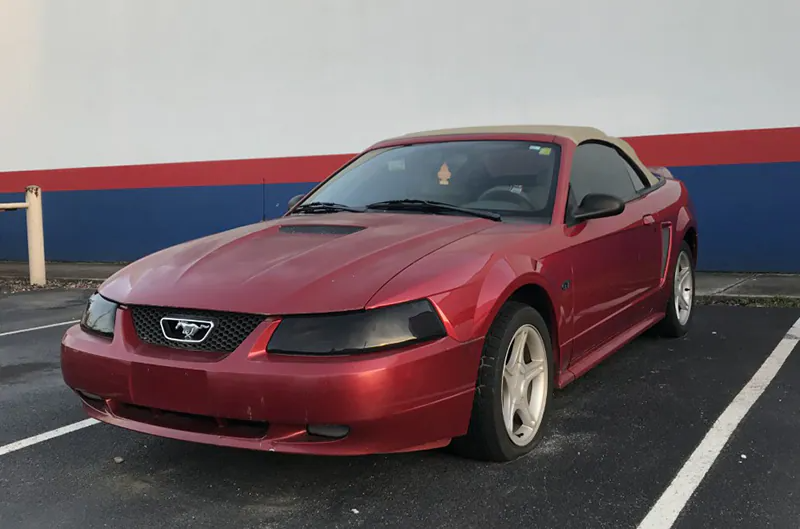 "With help, there was contact with the owner once again and he was asked if he would take my cash offer for the Mustang. He replied, 'I don't need your money. The title is in the dash. If you can get the car open, it's yours.'
"Needless to say, some time was spent on the car and the title was eventually obtained! However, there were no keys to the car. The gentleman then said, 'Send me the title and I'll sign it over and send you the keys.' Taking a leap of faith, I did just that – and just three days later I received a package in the mail that changed my life. In it there were the keys and the title to my very own Mustang! That's just the beginning of my own Cinderella story, as I was in near tears driving to the courthouse to get the title put in my name.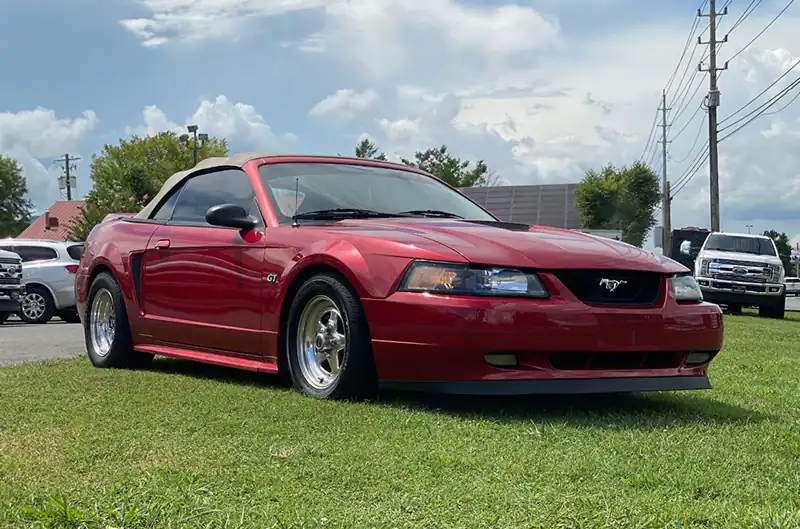 "Since owning the car, I have nearly restored it fully – everything from cosmetics to mechanical to the motor in just a mere 18 months. Since being in my possession, the car has been repainted in its original color, Laser Red, and the motor was swapped with another 2-valve V-8 with less mileage on it. I've also added a new convertible top, lowered it three inches (now sitting on Weld Wheel Prostars with a street/drag set up), swapped out the interior with '03 Terminator Cobra seats, as well adding the iconic amber taillights that many have come to love.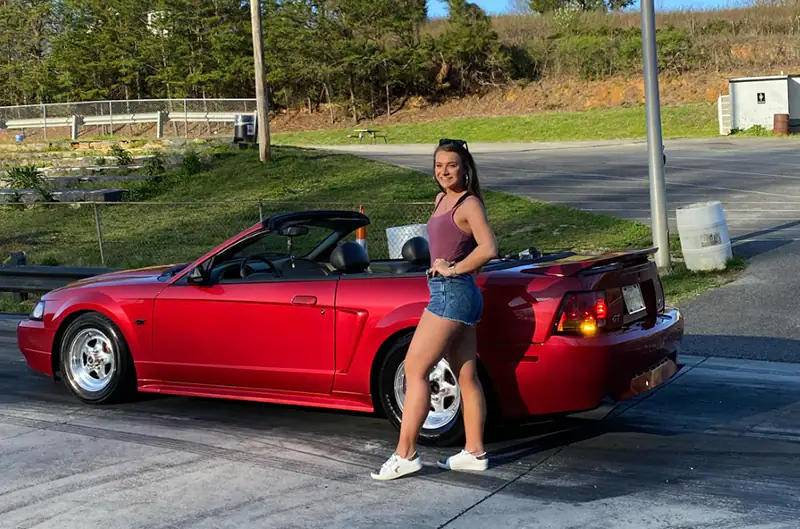 "The goal with the car was to restore it to make it look like it was driven fresh off the lot in the year 2000, with some of my own personal flair. I drive the car around three-to four times a week, as long as it's dry outside! Along with all of that hard work, dedication and support from friends and family, I was granted the honor of getting to represent the year 2000 in the Ponies in the Smokies 2021 – 'The 58' Display.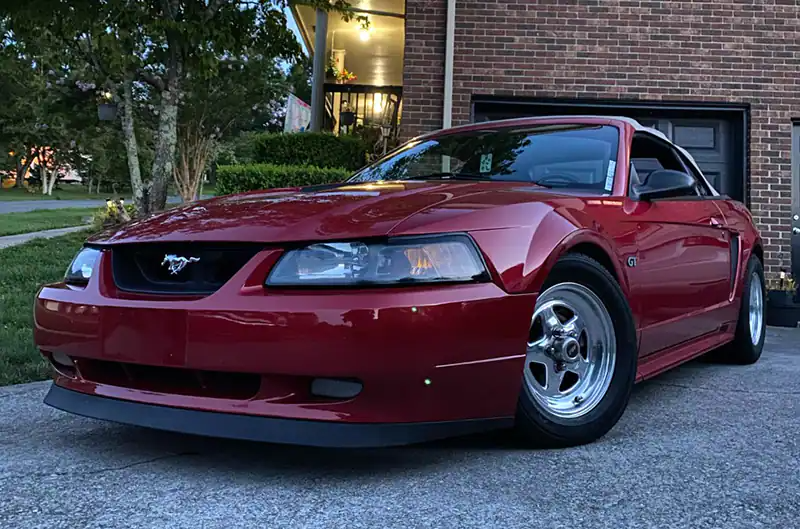 "I have given my Mustang the name 'RubyY2V,' and it has been my outlet in life. It has allowed me to meet amazing people, see fantastic cars I had only seen in magazines, and to be able to live the lifestyle I've always desired. It's an absolute honor owning a Ford Mustang and watching one of my very own turn from what looked like a junker to a car that's a show-worthy queen. The Mustang is such an iconic and timeless car that I cannot wait to see it continue to progress and carry on the tradition of one of the most popular muscle cars of all time."
How YOU can Get In The Spotlight: For the past decade, one of the most popular features on FordPerformance.com and in our weekly Fast News e-newsletter continues to be "Ford Fan Spotlight," where readers can send in their own reasons why they're fans of Ford Motor Company and its vehicles. You know who they are: Ford "superfans;" grassroots Ford racers; unique Ford vehicle owners; loyal Ford enthusiasts; notable Ford club people; special Ford families; and/or any avid supporter of Ford, Ford vehicles, Ford motorsports or Ford Performance who deserves a little bit of special recognition.

All you need to do to get you, your car or candidate considered is to send in a brief description (200-500 words or less) and a few photos (in .jpeg format, preferably around 1 mb in size) with the owner's full name and hometown, please. Just tell us about the vehicle(s) and why you think Ford Performance should feature it (them) in the "Ford Fan Spotlight" for an upcoming installment of Fast News as well as for posting on FordPerformance.com. Then email it to: ClubHub@Ford.com with your contact info. Should you wish to send a video, you simply need to post it on www.YouTube.com (preferably 1-2 minutes long) and send in the link, along with a brief description, to that same ClubHub@Ford.com email address. Your submission allows us the rights to use your words and images (along with any edits) for editorial purposes; we'll choose one submission in random order each week to post online. We hope to see YOU and your Ford in our Spotlight soon!