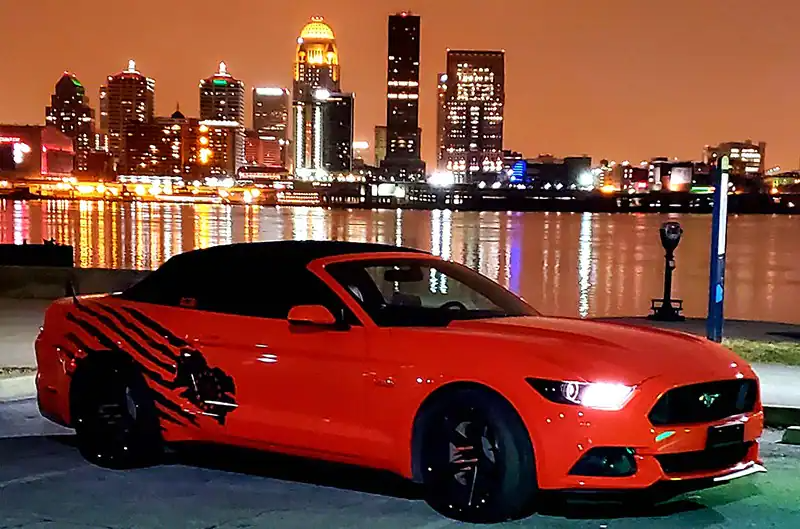 Just as much of the Ford enthusiast world celebrated Global Mustang Day on April 17 with cruises and car shows, we headed down to Dayton, Ohio, to meet up with area Mustang clubs at the Halderman Museum in a tribute to the original Mustang's principal designer, the late Gale Halderman. After our special Ford Performance presentation, we walked the museum's grassy back lot to check out all of the Mustangs that made the trip. Among them we couldn't help but notice Joshua Lemon's personalized, bright orange Mustang GT. In case you were wondering if we really feature cars in our Ford Fan Spotlight after telling people to send us a note about their car and a few photos, you simply need to read Joshua's email to us below:
"Hi, Ford Performance! My name is Joshua Lemon. It was really great to meet up with Ford Performance at the Gale Halderman Museum in Tipp City, Ohio, on the Mustang's birthday this past April. I was told I my car is a head-turner, and that I should submit a note about my car and some photos to be considered for your weekly Ford Fan Spotlight.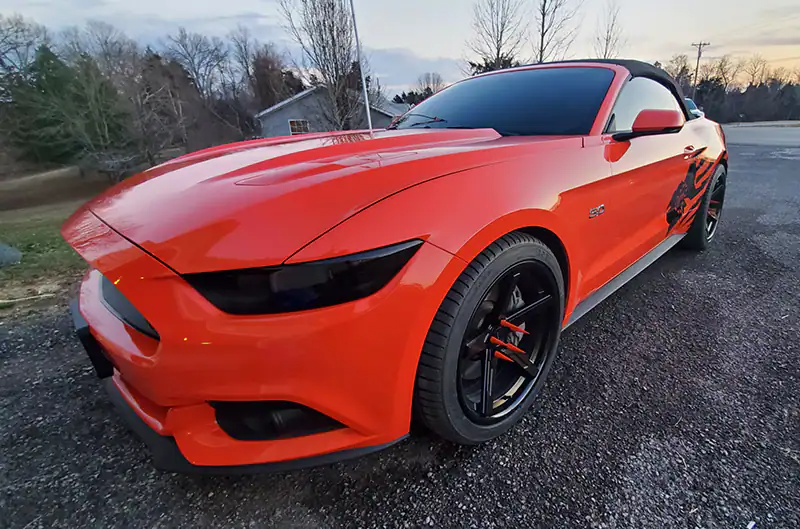 "My car is a 2015 Competition Orange Mustang GT. It rides on a set of 20×10-inch Vertini's with a plus-35 offset and spiked lug nuts matching the car's color. It also has cold-air intake, long-tube headers with cat delete, and a Borla cat-back system with X-pipe. It features an aluminum expansion tank, plus engine covers and a fuse box cover with hydro dip. The engine has a custom tune by Lund. I hope you consider my Mustang GT to be featured."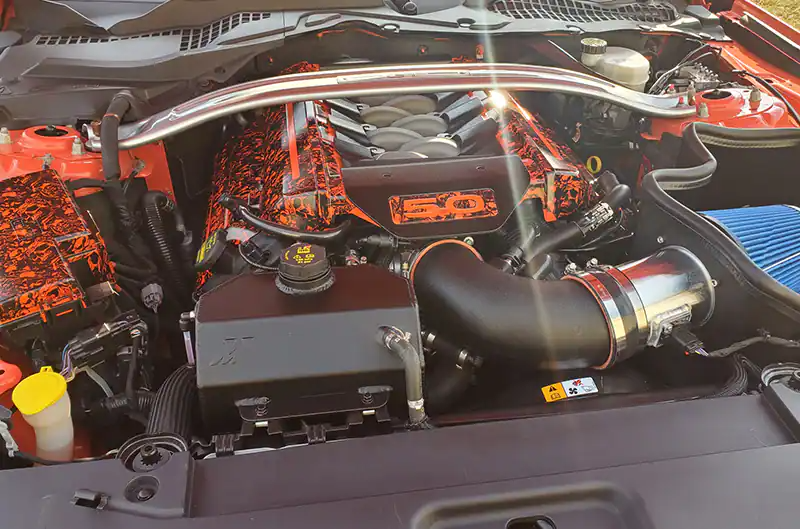 How YOU can Get In The Spotlight: For the past decade, one of the most popular features on FordPerformance.com and in our weekly Fast News e-newsletter continues to be "Ford Fan Spotlight," where readers can send in their own reasons why they're fans of Ford Motor Company and its vehicles. You know who they are: Ford "superfans;" grassroots Ford racers; unique Ford vehicle owners; loyal Ford enthusiasts; notable Ford club people; special Ford families; and/or any avid supporter of Ford, Ford vehicles, Ford motorsports or Ford Performance who deserves a little bit of special recognition.

All you need to do to get you, your car or candidate considered is to send in a brief description (200-500 words or less) and a few photos (in .jpeg format, preferably around 1 mb in size) with the owner's full name and hometown, please. Just tell us about the vehicle(s) and why you think Ford Performance should feature it (them) in the "Ford Fan Spotlight" for an upcoming installment of Fast News as well as for posting on FordPerformance.com. Then email it to:ClubHub@Ford.com with your contact info. Should you wish to send a video, you simply need to post it on www.YouTube.com (preferably 1-2 minutes long) and send in the link, along with a brief description, to that same ClubHub@Ford.com email address. Your submission allows us the rights to use your words and images (along with any edits) for editorial purposes; we'll choose one submission in random order each week to post online. We hope to see YOU and your Ford in our Spotlight soon!