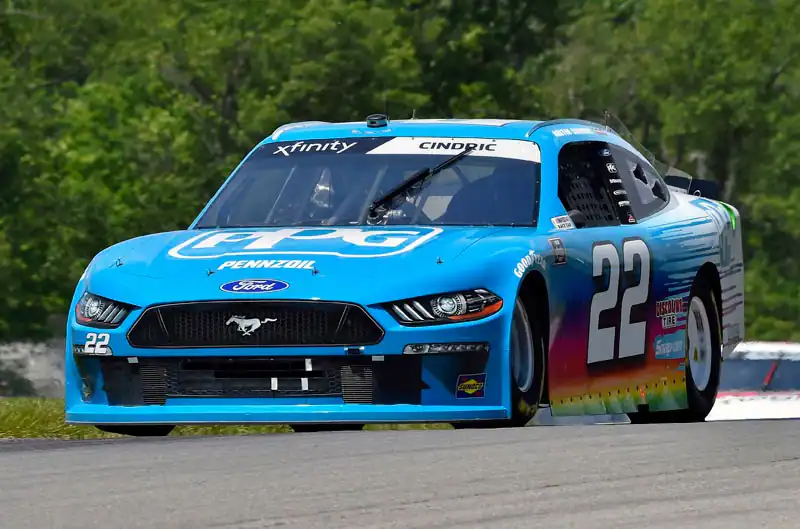 LEXINGTON, OH – Austin Cindric had his fourth victory of the season and second straight at Mid-Ohio well within reach, but a late-race restart produced chaos that took all of that away as he got hit from the side and spun off course, resulting in a 14th-place finish.
Prior to that, Cindric was cruising toward victory as he had a 10-second lead on the field, but when Jeb Burton drove off track and got stuck in a gravel trap, NASCAR was forced to throw a caution with seven laps to go. That erased Cindric's lead and set up the final restart, which saw eventual winner AJ Allmendinger dart to the inside of Cindric and Ty Gibbs to get the lead. Cindric ended up getting pancaked in the driver's door when Gibbs and Michael Annett made contact going three-wide and lost control.
Despite the disappointing result Cindric, who led two times for a race-high 30 laps, extended his points lead to 96 over Allmendinger as he goes for his second straight regular season championship.
Ryan Sieg ended up being the top Ford finisher as he ended up ninth, his sixth top-10 effort of the year, while Riley Herbst, who was fourth at the white flag, ended up 21st after contact with Andy Lally on the final lap sent him off track..
The series will be back in action on Saturday, June 12 at Texas Motor Speedway — 4 p.m. ET (FS1, PRN, SiriusXM NASCAR Radio).