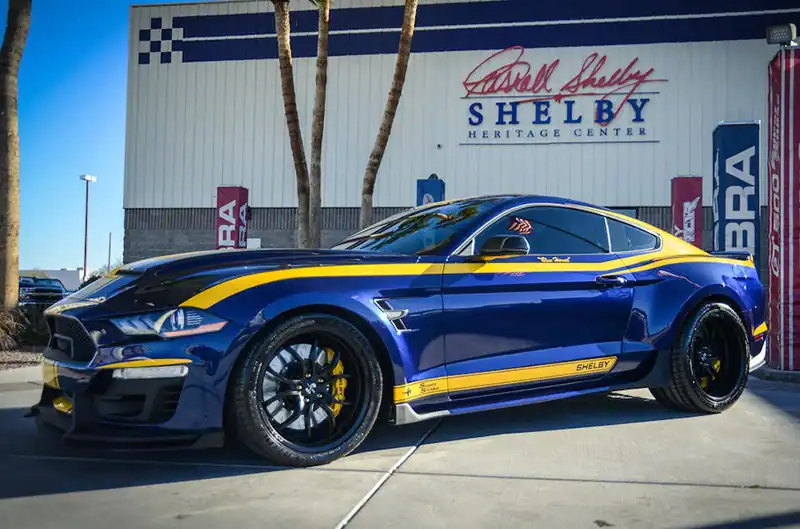 If you're into the Transportation Hobby and like to witness fast machines, you should check out the annual KC Air Show July 3-4 at the AirCenter in New Century, Kansas. Officially known as the KC Aviation & Airshow, this yearly gathering features a number of family friendly attractions that make for great entertainment venue. But of course the big draw is the air show, featuring thunderous appearances by the U.S. Navy Blue Angels and the U.S. Air Force Thunderbirds, along with mock dogfights and aerial stunts in special planes. But for Ford fans, the big news this year is the raffle for a Shelby Super Snake Mustang called the "Blue Hornet." Net proceeds from the raffle benefit Children's Mercy Kansas City and the KC Air Show Charities' STEM-education programs.
This 1-of-1 supercharged "Wide Body" Shelby Super Snake (CSM#20SS0010 in the Shelby Registry) boasts 825 horsepower and 0-60 in 3.5 seconds, along with a Ford Performance FR3 Track Suspension, stainless cat-back exhaust, extreme duty cooling system, Brembo Big Brake package, Michelin Pilot 4S tires and Shelby Super Snake forged wheels. Tickets are $95 and are limited to 6,000, so you'll get a 1 in 6,000 chance to win with your purchase and a 100-percent chance of helping kids. To get show info or to buy raffle tickets, see the event website here.
Fabulous Fords Forever Show is back! – Head for the Irwindale Speedway June 13
If you are a Blue Oval fan, one of the Ford car shows on your bucket list has long been the Fabulous Fords Forever show, billed as the West Coast's largest all-Ford show and hosted by the venerable Ford Car Club Council. For 32 years the show was an early-in-the-year staple at Knott's Berry Farm, but had lost that venue in 2019 and was moved to the parking lot of Angel Stadium of Anaheim. Attendance had sagged that year – and then was stopped altogether when the 2020 show was cancelled due to the COVID pandemic. But thanks to an easing of the virus' grip on society in 2021 and a new agreement with Irwindale Speedway, the Fabulous Fords Forever show is back and is all set to go on this Sunday, June 13, from 10 a.m. to 3 p.m. with 1,000 cars expected and a whole host of attractions both old and new. See the show's website, https://www.fabulousfordsforever.com, for full details and registration info.
Mid-America Ford & Shelby Nationals Gears Up For A Hot Time in Tulsa June 16-20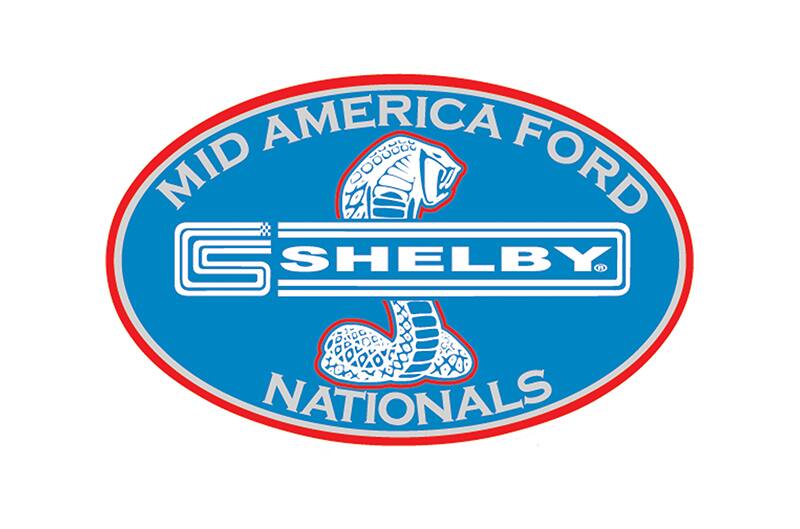 Another one of the big, annual bucket-list shows that any and all Ford fans need to attend at least once in their lifetime is the Mid-America Ford & Shelby Nationals held in Tulsa, Oklahoma. Even COVID didn't stop the big Ford meet from celebrating its 46th gathering last year, although plenty of changes had to be made to the event format to follow CDC guidelines on the virus – most notably the elimination of the big event banquet. This year, the Mid-America Nationals will host its 47th event from June 16-20 in Tulsa – albeit without the famed banquet again. But organizers have lots of Mid-America's other attractions set to go – including a Route 66 Poker Run, two full days of road-course action at Hallett Motor Racing Circuit, plus you can still enjoy cruising with hundreds of other Fords and Shelbys to Historic Downtown Tulsa for a night of networking and fun, as well as compete in the all-Ford Drags, including an instructional class, at Tulsa Raceway Park. But most people come to the Mid-America Nationals for the big show and swap, and that's a go as well this year, with an all-Ford "Cars and Coffee Show" on Sunday. For all the details, seehttps://www.midamericafordmeet.com/
Henry Ford II's Mustang Tops List of Hot Fords Going Up For Bids at Barrett-Jackson Las Vegas June 17-19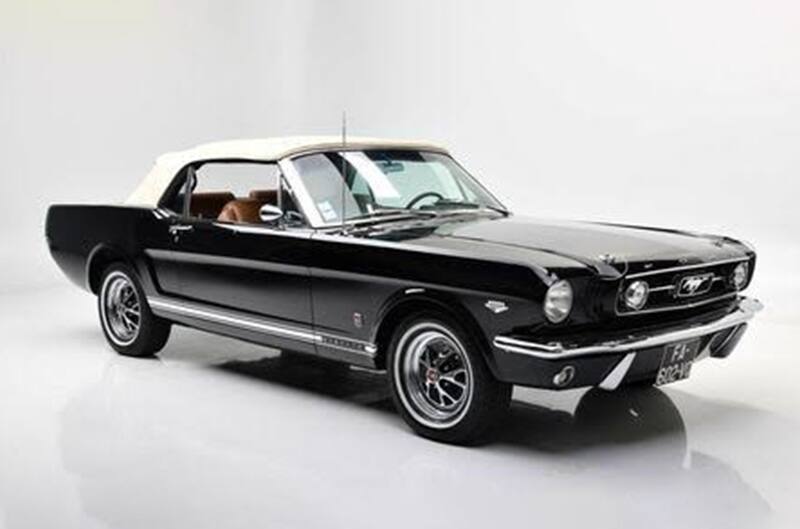 The Barrett-Jackson Auctions always seem to draw top-notch collectible Fords, and next week's auction in Las Vegas in no exception. Topping our watch list is the Mustang once owned and driven by "Hank the Deuce." This highly optioned 1966 K-Code Mustang was specially made for Henry Ford II for use during his stay in France as Ford toppled Ferrari in the 24 Hours of Le Mans. It features a matching-numbers 289 K-code V-8, complete with a four-barrel carburetor, solid-lifter cam and a four-speed manual transmission and a 3.89:1 rear gear. With custom touches by the Ford Design Center, this GT Equipment Group '66 Mustang is finished in Raven Black with a white top and a special tan interior. So head to the West Hall of the Las Vegas Convention Center June 17-19, or check out barrett-jackson.com for more information.
Time to Register your Club or Ford Fan Facebook Group with Ford Performance Club Connect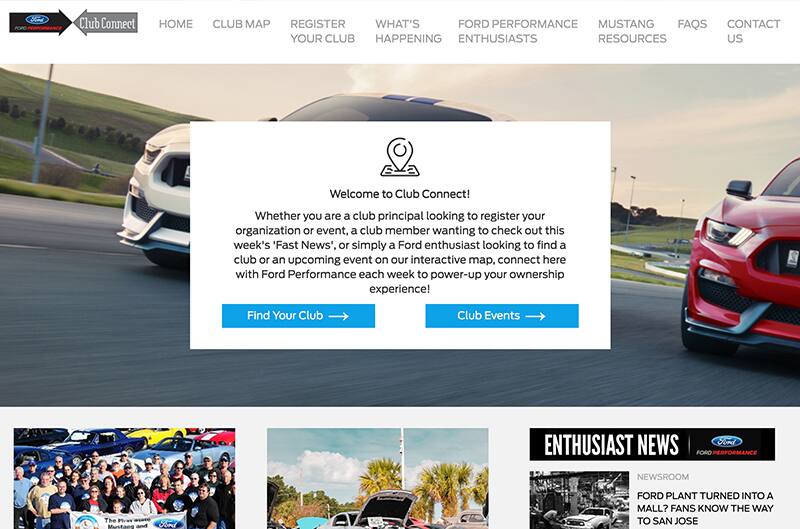 By now you should have heard about a cool Ford Performance initiative called "Club Connect" that can help all Ford and Mustang enthusiasts get connected with both Ford Motor Company and each other. Only those clubs who register with the program are eligible for no-cost promotion and support from Ford Performance, so you owe it to members of your Mustang or Ford vehicle club or online forum to register and appear on our Ford enthusiast club map. All it takes is a visit to www.FordPerformanceClubConnect.com and a single click on the "Register Your Club" link. Once you fill out the form and hit "Submit," you'll be notified within just a few days of your acceptance in Ford Performance Club Connect — it's that simple, and it's FREE!

The primary goal of our Ford Performance Club Connect program is to get everyone to register their club – at no cost – and get themselves on our Ford enthusiast group map so that we can all connect with each other. Once there, you'll be able to see all of the other clubs and groups who have registered in your region – not just Mustang clubs, but ALL Ford vehicle organizations. And now we'd like to invite all of you who are part of any Ford vehicle Facebook Group to register with Club Connect, too. Why? Because connecting your Facebook Group with more owners and fans makes your group more worthwhile – and registering with Club Connect will link your online group with participants who may never have known that your group exists.

The value in all of this is that whenever you plan a club or group activity, you can see what other clubs and groups are in your area that you may wish to contact and ask to join you at a show or event. It also allows Ford Performance to see all the clubs and groups in a certain area, so that when we are coming to town or planning a special Ford event in your city or state, you and your club members can be contacted to participate.

It takes only a few minutes for a club principal or board member to register your club and establish a direct link for your members to Ford Performance. And now, you can also register your group and logo with Ford Brand Licensing all in the same process. Have a product or parts question that you want answered? Wish you could get some free club event promotion in our weekly "Fast News" e-blast that goes out to more than a quarter-million Ford fans each Thursday? Looking for event coverage for your show in the Enthusiasts section of FordPerformance.com? Hoping you could find a cool Ford goodie-bag or door-prize item, or a banquet guest speaker? How about requesting on-site show support with an appearance by our Ford Performance Meet & Greet tent, along with FREE Mustang poster giveaways for all show attendees? Individual requests are reviewed on a case-by-case basis, but they can ONLY be awarded to clubs who are registered.

So go to www.FordPerformanceClubConnect.com and click on the "Find Your Club" link to see if you are on the map. If not, then act now to register your Ford-based club or Facebook Group so that you can join this special program — all backed and supported by a real enthusiast staff managed by Ford Performance. If you have questions or want more info, you and your members can always email us at ClubHub@Ford.com, or can simply call our Ford Performance Info Center, toll-free during regular business hours, at 1-800-FORD-788 (800-367-3788).

So what are you waiting for? Get online and make sure you're connected. Then plan to enjoy your performance Ford later this year so that you can discover the fun and all of the friendly people involved in the world of Ford Performance. We're sure that being connected with each other and with Ford will make your ownership experience even more enjoyable!
Here's How Easy It Is to Get You and Your Car(s) Featured in Our Weekly 'Ford Fan Spotlight'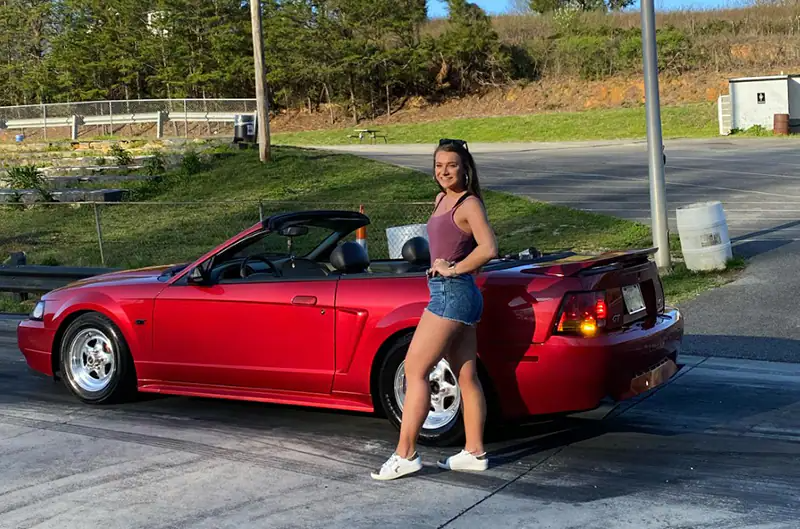 For the past decade, one of the most popular features on FordPerformance.com and in our Fast News e-newsletter continues to be "Ford Fan Spotlight," where readers can send in their own reasons why they're fans of Ford Motor Company. You know who they are: Ford "superfans;" grassroots Ford racers; unique Ford vehicle owners; loyal Ford enthusiasts; notable Ford club people; special Ford families; and/or any avid supporter of Ford, Ford vehicles, Ford motorsports or Ford Performance who deserves a little bit of special recognition.

All you need to do to get you, your car or candidate considered is to send in a brief description (200-500 words or less) and a few photos (in .jpeg format, preferably 1 mb) of a person (full name and hometown, please) and vehicle that you think Ford Performance should feature (and why) in the "Ford Fan Spotlight" for an upcoming installment of Fast News and posting on FordPerformance.com. Then email it to: ClubHub@Ford.com. (Your submission grants us your permission for us to use your copy and photos on our website and other Ford media outlets, edited as necessary.) We'll choose one submission to be featured each week. We hope to see YOU and your collectible Ford in our Fan Spotlight soon!
Now Read Our Enthusiasts News Each Week on Ford Performance Club Connect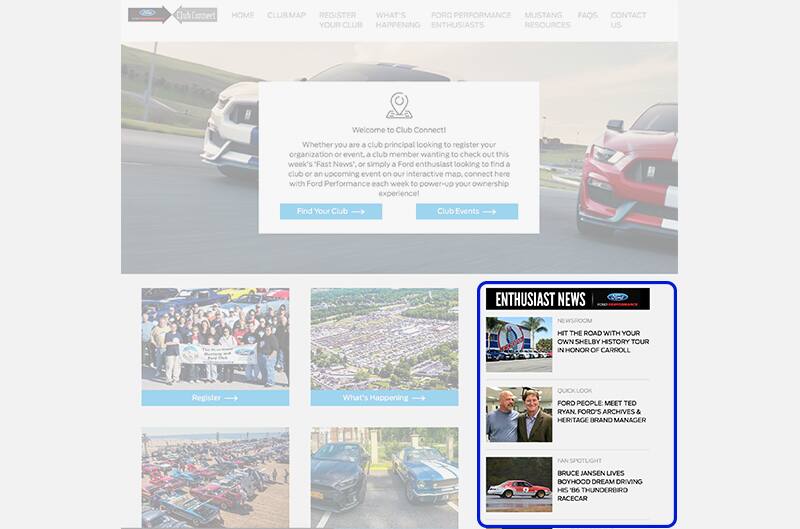 One race – one win – was all it took for Henry Ford to generate enough buzz and belief in his engineering among investors to secure funding and launch the Ford Motor Company. At Ford Performance, we have never forgotten where it all began. So we've been honoring our heritage, our products and our relentless competitive spirit by shining a light on motorsports and the Ford enthusiast world each week with our Fast News e-newsletter.
From news on our hottest cars and trucks or performance parts to the latest scoop on all the must-see Ford enthusiast events and shows, our weekly Fast News email has been your ticket to stay connected to the company that put the world on wheels. But trying to keep up with emails has left some of you in the dust. So that's why Ford Performance is now posting our weekly Enthusiast News directly on www.FordPerformanceClubConnect.com — so you can check it out the next time you're online without sorting through your email inbox. So put our FordPerformanceClubConnect.com website on your Favorites list, and then hop-in, buckle-up and hang-on each and every week for our Enthusiast News, because like you and all of us in the Ford enthusiast world, we'll be driving Ford passion!